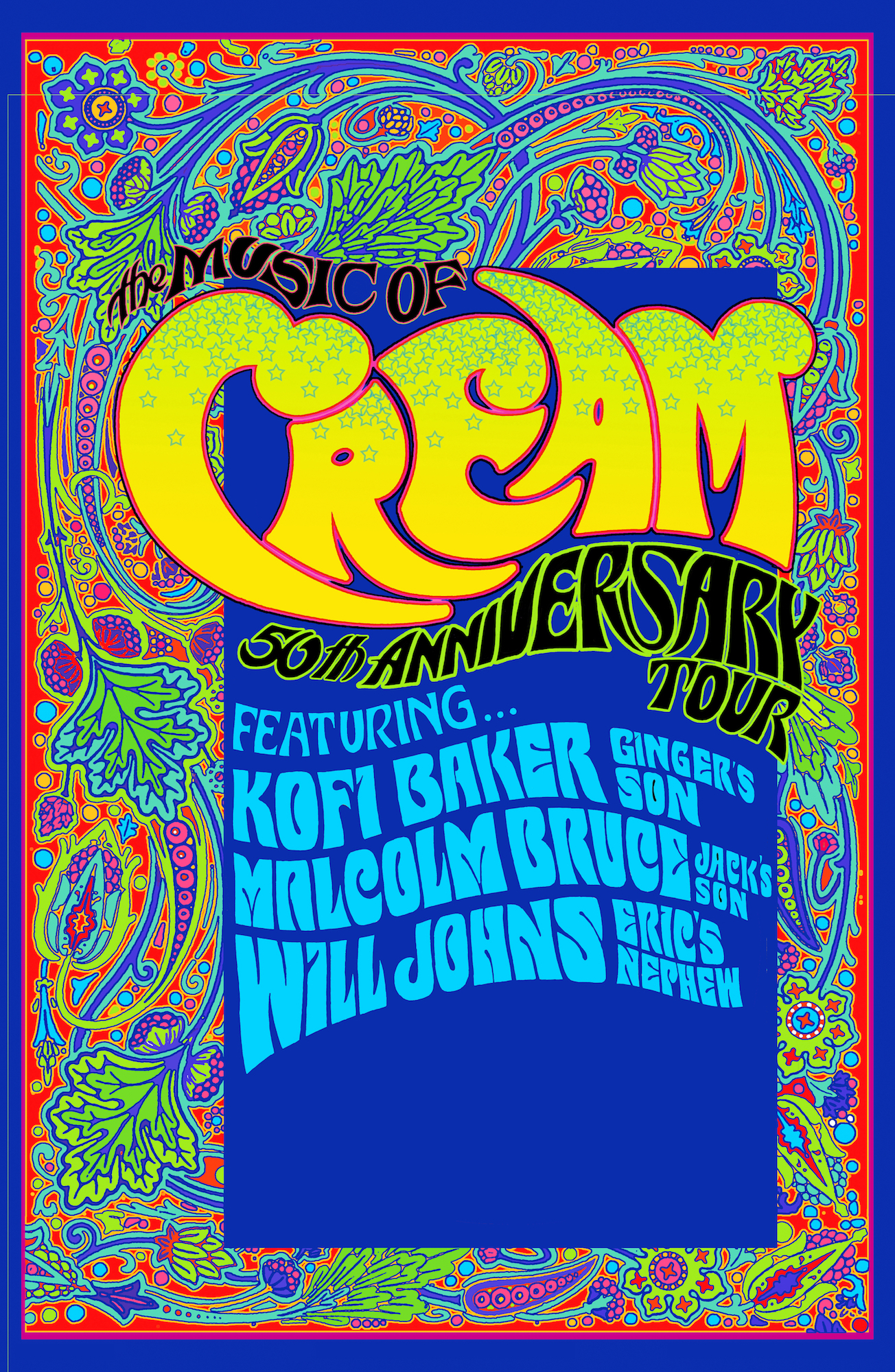 The Music of Cream performed Sunday night, April 14 at the Peabody Auditorium in Daytona Beach, and we were on the front row.  It is unfortunate that more folks were not in attendance – apparently Cream fans are hard to find.
Here at the InspiringLifeOver50.com World Headquarters, we go to many "tribute band" concerts in the local area.  When I heard about this show, I was skeptical since I have been a Cream fan since the late sixties.  When you know the music it is easy to be disappointed when they "don't do it right."  But I looked into it, and then I bought the tickets.
As was the case in January when we went to see the "real" Glenn Miller Band in Ormond Beach, this rendition of the Music of Cream was the real thing.  The original band consisting of the immortal Eric Clapton on lead guitar, Jack Bruce on bass and Ginger Baker on drums made some great rock music (okay, drug-laden rock music) with just the three of them.  No keyboards, no horn section, no second guitars…just the three of them.  Well, the musicians performing the Music of Cream was non other than lead guitarist Will Johns, Eric Clapton's nephew; Malcolm Bruce, son of bassist Jack Bruce; and drummer Kofi Baker, Ginger Baker's son.  I'm pretty sure that musical talent is genetic – I have seen the proof.
Cream hit the music scene in 1967 when I was all of 14 years old.  They hit their peak in 1969, so this tour is the 50th Anniversary Tour commemorating the music of Cream.  Playing old favorites like Crossroads, White Room and Sunshine of Your Love were expected, but jam-songs like Sweet Wine, I'm So Glad and Toad were also welcome additions to the evening entertainment.  Kofi Baker sang the lyrics for Pressed Rat and Warthog after admitting that his dad – Ginger – wrote the song while doing acid.
Pressed rat and warthog have closed down their shop.
They didn't want to; 'twas all they had got.
Selling atonal apples, amplified heat,
And pressed rat's collection of doglegs and feet.
Sadly, they left, telling no one goodbye.
Pressed rat wore red jodhpurs, warthog a striped tie.
Between them, they carried a three-legged sack,
Went straight round the corner and never came back.
It goes on from there.  Acid.  It shows.  Ginger Baker was known for some strange lyric and poetry.  Still one of the best drummers ever, and his son is right up there.
I always considered Jack Bruce as one of the best bass guitarists ever due to his ability to "fill in" Clapton's lead guitar, using bass chords and a "lead guitar" sort of style on the bass.  Malcolm has kept that musical talent alive even after his father's death in 2014.
Will Johns told a story about asking his Uncle Eric how to play Crossroads.  Eric showed him the first few bars and Will picked it up – then asked for the next part.  Eric told him to figure it out for himself.  Well, he did.  He has all the talent of his famous Uncle Eric.
Another box is checked off the list.  I have come as close as I could possibly come at this point to seeing Cream in concert.  They are NOT a tribute band – these guys are the real thing.  Just another generation.
There are four more dates on their calendar for this year –
Apr 17 – New Orleans, LA – House of Blues
Apr 18 – Houston, TX – House of Blues
Apr 19 – Dallas, TX – House of Blues
Apr 20 – San Antonio, TX – Empire Theatre
If you missed the show in Daytona, we are deeply sorry…you missed a great show.  But for entertainment updates from the Peabody Auditorium in Daytona Beach, check their events calendar.